Fully booked Climate Technology Conference kicks off in Oslo today
CLIMIT Summit 2019 brings together more than 270 high-level speakers and experts for exchanging ideas and building knowledge within the important climate mitigation tool: Carbon Capture and Storage (CCS).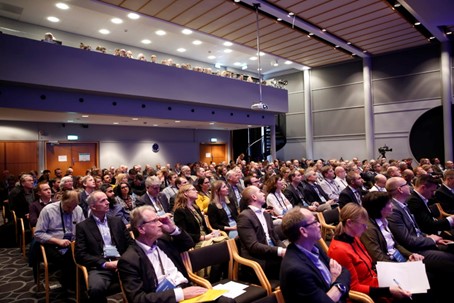 Minister of Petroleum and Energy Kjell-Børge Freiberg started the high-level session of this year's CLIMIT Summit. He was followed by Patrick Child from the EU Commission, Angelos Kokkinos from the US Department of Energy and representatives from central actors of the Norwegian CCS efforts who will discuss opportunities for cooperation in this area.
"CLIMIT is currently mobilizing the next wave of capture projects. These are projects that potentially will use the storage infrastructure of the Norwegian full-scale demonstration project. Even on an international scale, CLIMIT is contributing to progress. Along with funding from Swedish authorities, CLIMIT supports testing of capture technology at the PREEM refinery in Sweden. This project could possibly lead to an international source that could use the planned storage in the North Sea."
Kjell-Børge Freiberg, Minister of Petroleum and Energy
He added: The Norwegian full-scale project would not have been possible without CLIMIT. CLIMIT has supported development of every step in the value chain: capture, transport and storage.

CEO of Gassnova, Trude Sundset, is also underlining the importance of international collaboration.
"We learn something every day and this is why it is important that we exchange knowledge and pull in the same direction. That's exactly what we do at CLIMIT Summit. Our Minister of Petroleum and Energy already mentioned the Preem project. And tomorrow we will sign an agreement with the American National Energy Laboratory (NETL) on exchange of personnel between our facilities and offices. It is crucial that we all work together on accelerating technology development and implementing CCS in industrial scale."
Trude Sundset, Gassnova
At CLIMIT Summit we also have broad participation from the industry, and speakers from among others Total, Equinor, Mo Industrial Park, Eyde cluster, Preem AB, Federation of Norwegian Industry and Norwegian Oil and Gas Association.

CLIMIT is the Norwegian programme for research, development and demonstration of technology for CO2 capture, transport and storage. The International Energy Agency IEA and the UN Intergovernmental Panel on Climate Change agree that reaching the Paris goals without CCS will be extremely demanding. Through the CLIMIT research programme, Gassnova and the Research Council of Norway are cooperating to fund CCS projects with about 20 million Euro annually.