Cleaner hydrogen production
The calcium-copper looping technology is promising.The aim is to produce hydrogen and capture CO2 in one step. And do it cost-efficiently.
---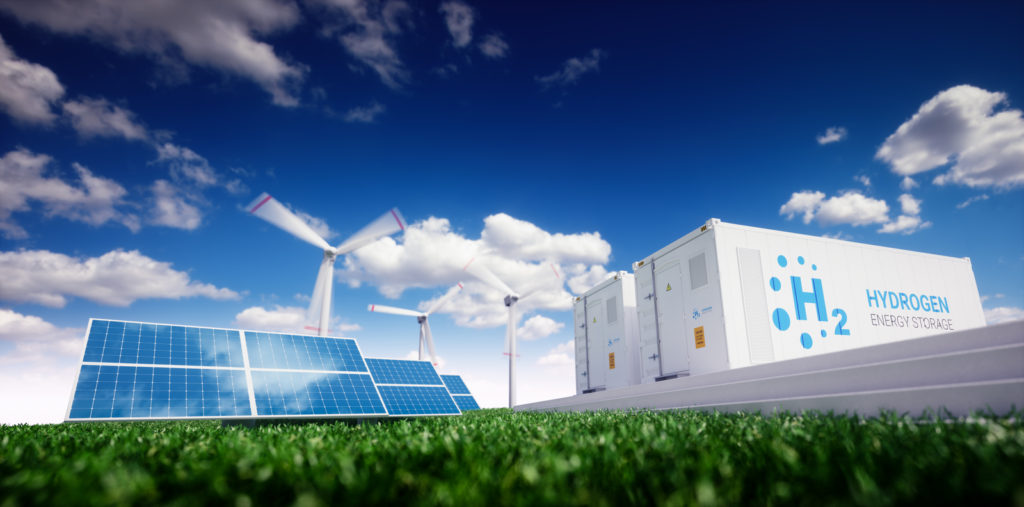 A long tradition
IFE (INSTITUTE FOR ENERGY Technology) at Kjeller, Norway, draws on a long tradition of collaboration with industrial companies.

"Our core business is to help industries to move to the green shift with specific technologies, and we tailor solutions from there", says Suni Aranda, head of IFE's Department for Environmental Industrial Processes.

IFE possesses a comprehensive pool of knowledge in hydrogen, CO2 capture and utilization, as well as process intensification – how to design new processes and make existing processes more efficient.
A well-travelled idea
"We have a very strong belief that working with industry from the concept stage, is key for success", says Aranda. "It's important that they are involved. Because we don't have ready-made solutions in our pockets. We seek to address the practical needs of operational environments."

The 6Cs project – CO2 Capture by Combined Calcium-Copper Cycles – paves the way for hydrogen production with integrated CO2 capture, and followed this pragmatic approach.

The 6C project was ideated as a spin-off project with origin from a European framework, and it was carried out together with international research and industrial partners.

"I think the 6C project is a successful example of how knowledge travelled back and forth between Norway and Europe, between different research communities, and between researchers and industry players", says Aranda.
Well calcium-copper?
In conventional hydrogen production, hydrogen is produced in several reactors, where CO2 capture is not integrated and requires considerable energy and dedicated quipment. The calcium-copper looping technology proposes to integrate the entire process into one reactor with sequential steps, alternating gas flows and process conditions.

The 6Cs project also aimed at developing innovative materials for this process. Materials with combined functions reach even further reduction of energy demands and quipment costs. That's why it's called process intensification.

The system starts with natural gas,mostly methane, injected into the reactor.

To capture the CO2, the researchers use calcium oxide as a sorbent. Under specific conditions, calcium oxide captures CO2, and becomes calcium carbonate. The next step is to release the CO2 from the calcium carbonate, in a concentrated form, ready for its utilization or storage. The sorbent is regenerated back to calcium oxide, and made available for a new cycle where it can capture the CO2 again.

The regeneration of the sorbent takes place at a high temperature. How heat is transferred at this high temperature, is crucial in terms of how viable this process will be. In the calcium-copper looping cycle, the heat is generated and transferred via the copper in-situ, by the exothermic reduction of copper in contact with reducing gases (H2 and CO). The heat transfer comes from solid-gas chemistry. There is no additional external source of heat for the regeneration of the sorbent.

"Copper is reduced while calcium carbonate is decomposed, and the reduction of copper is exothermic. It means that it emits heat that is necessary for the calcium carbonate to release the concentrated CO2, and form calcium oxide for a new cycle," explains Luca Di Felice, project director.
A combined material
The crux of the process design is to merge functions in the same material. Calcium and copper are combined into composite particles. The combined material – which contains both the sorbent and the heat carrier – must have adequate chemical, physical and techanical properties. It has to go through the chemical cycles, withstand high temperatures and changes of temperatures, and tackle possible impurities in the gas. The focus of the research revolved around the stability of different materials.

"For example, in specific circumstances, spots within the material can melt. This is one of the challenges with copper. You have to spread it nicely, so it's stable and still reactive over cycles. This has been a scientific challenge," says Di Felice.

At the completion of the 6Cs project, the calcium-copper looping technology is way more than a concept. The research team has carried out comprehensive simulation and laboratory testing. Now the aim is set for further verification on an industrial-level scale.

Partners are such as Instituto de Carboquímica in Spain, the University of Bergen, the Norwegian Institute for Air Research and the Eindhoven University of Technology in the Netherlands. Industrial partners were Johnson Matthey, the UK developer of sustainable technologies, and a coppermining company, Cobre Las Cruces, in Spain.