Cignus Instruments develops a new solution for direct mass flow metering of CO₂
Existing flow meters do not meet all technical measurement requirements for measuring the mass flow of CO2 in future large scale CCS chains.
Cignus' proprietary technology can help close this technology gap.
Measurement of accumulated mass CO2 will be an important function in CCS chains
The capture plants must be able to measure how much CO2 is delivered for transport with an accuracy that meets the authorities' requirements for approval of their emission reductions. For the same reason, storage operators also need accurate measurements of the incoming mass flow of CO2 for storage. Future operators of CCS chains are prioritizing the development of new and better solutions for mass flow measurement. Cignus Instruments develops a new type of mass flow meter with technical advantages compared to the solutions available on the market today.
Several studies conclude that none of the existing technologies for mass flow measurement satisfy all the technical measurement requirements for measuring the mass flow of CO2 in CCS chains. Traditional Coriolis mass flow meters are considered the most accurate and the only technology for direct mass flow measurement, but have general limitations for large pipe diameters, especially at large operating pressures, and the technology is not qualified for subsea installations. Moreover, this technology has significant internal pressure drop, which presents challenges when handling liquids close to the boiling point where a pressure drop will result in a risk of boiling and thus increased measurement error. This is a risk in mass flow measurement of liquids with low boiling points, such as liquid CO2, NH3 and H2.
The technology development is going on in NFR EnergiX IPN project 327715 Cignus Instruments "Mass flow meter for H2 and liquidCO2". Sintef Energi, Equinor, NEL, TechnipFMC, and TotalEnergies are partners in the project, which has demonstrated the technology at lab scale to EU TRL4.
Funding from CLIMIT programme
In October 2022 Cignus got funding from CLIMIT Demo for the project 622129 "Design, construction and installation of prototype Cignus mass flow meter for CO2 testing at Equinor P-Lab".
"P-Lab" is Equinor's research facility at Herøya in Porsgrunn, which features a multiphase flow loop. Equinor will run a test campaign with CO2 at "P-Lab" next fall, and Cignus has had the opportunity to test its prototype mass flow meter in this campaign.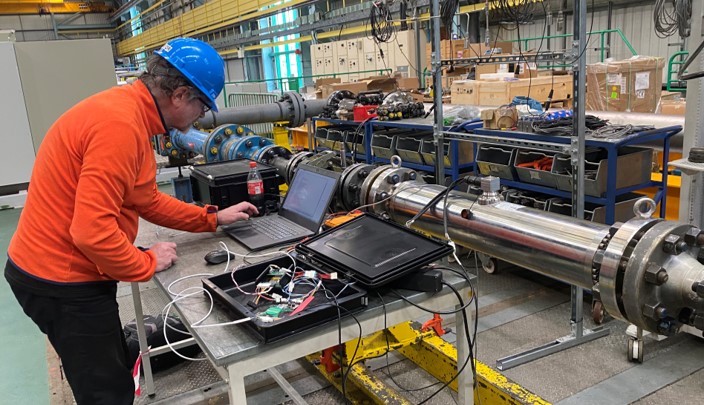 The project will demonstrate the function and accuracy of the Cignus mass flow meter in both gas and liquid form
The aim is for the project to lift the technology from TRL 4 to TRL6 "validated in relevant industrial environments".
In the longer term, Cignus' goal is to develop and qualify the technology for full-scale CCS service, such as in Northern Lights phase 2.
The technology developed by Cignis has several advantages compared to today's solutions. It is better suited for high pressure, larger pipe dimensions, for subsea operation, and it has a low internal pressure drop. These advantages could translate into a competitive advantage in future CCS markets for large-scale pipeline transport, loading/unloading of ship transport and subsea storage.
Cignus Instruments was started in 2020 to develop proprietary mass flow metering technology, so far, the company's only business area. The company currently has eight employees, including the founders. The same founders started the company Presens AS in 1996 which developed technology and produced pressure sensors for a global market. Presens was acquired by General Electric/Baker Hughes in 2012.
Conclusion
Today's technologies do not meet the requirements for mass flow metering of CO2 in future CCS chains. The partners in Northern Lights and other future operators of CCS chains are prioritizing closing this technology gap. With the support of EnergiX, CLIMIT and industry partners, Cignus is developing a solution that can help close this gap.